Overview
Supplementing machine data with contextual information right at the machine offers great value to manufacturers. When working with MachineMetrics, tablets can be magnetically mounted at the machine to give Operators an at-a-glance view of the machine's performance as well as acting as an interface where they can log in and out of a shift, categorize downtime, track quality by rejecting parts, and more. All of this Operator-input data is then visible in reporting tools within the application.
Topics covered in this article
Purchasing Tablets
Tablets can be purchased through MachineMetrics, or you can also configure tablets purchased outside of MachineMetrics to work with our platform (see article here.).
For more information about MachineMetrics hardware, please see below:
Guide to Hardware by Integration Type
Setup
Once you receive your tablet, there are a few steps that need to be taken to set up and authorize the tablet through MachineMetrics. Once your tablet is authorized, you will be able to log in and explore the Operator Dashboard.
Operator Dashboard
The Operator Dashboard is the MachineMetrics interface that runs on the tablet. It is used for Operator visibility and Operator- input data for reporting and analytics. Operators can perform functions using the tablet interface including but not limited to: monitoring part count and cycle times, start/stop jobs, categorize downtime, and reject parts. Additionally, the Operator Dashboard can be used to make adjustments to improve machine production.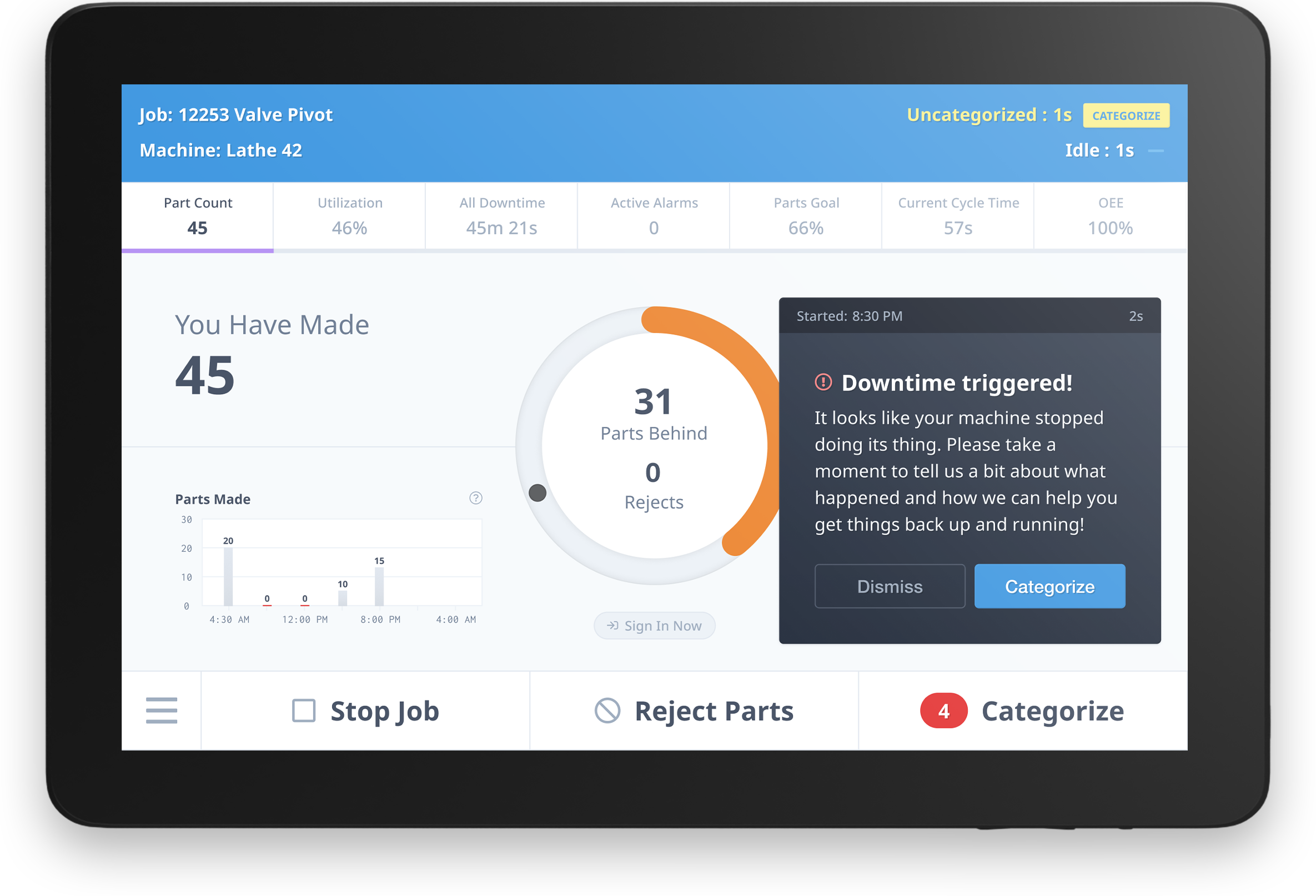 For more information about our operator dashboards check out our Knowledge Base articles:
Operator Dashboard 2.0 PDF Training
Operator Log in and Tracking
At the start of a shift, an Operator will be able to sign in to their individual profile if your company uses Operator log ins (this is optional). This allows for production tracking unique to each Operator and can be used to improve efficiency by identifying areas of improvement. For more detailed information about Operator login and tracking, please visit the Operator Dashboard article that applies to your company environment.
Using Operator-Input Data
Now that you've set up your tablet and logged in, Operators can start entering contextual data right at the machine. One of the most valuable and immediate data points you will start receiving is around downtime- when is the machine running and when (and WHY) is it down. Understanding downtime is extremely valuable to many of our customers. To learn more about how to use Operator-input downtime data to drive efficiency, please visit our interactive course here.
Tablet Implementation and Downtime Tracking
Additionally, you can use other reporting tools to explore metrics like downtime, quality, utilization, Operator performance, and more.
Troubleshooting
As with any other piece of equipment, tablets are subject to issues that can sometimes be difficult to diagnose and resolve depending on one's technical experience. Software problems, frozen screens, environmental conditions, and more can all be a factor in tablet related issues.
For more detailed information about these issues and what steps you can take to resolve them please visit our Tablet Troubleshooting article.
Have Questions?
If you have any questions about your tablets please reach out to us at support@machinemetrics.com.