Edge devices play a critical role in getting data from your equipment to the MachineMetrics Cloud. These hardware components are located at the "edge" of the network, serving as gateways that bridge the physical and digital worlds.
When you purchase an edge device from MachineMetrics, the device comes with our software already installed. Whether you already have hardware of your own or you need to repair a device, this article will walk you through the steps required to provision a physical edge device.
Hardware Requirements
Before provisioning your edge device, ensure you have the following:
An edge device compatible with our platform. The device must have an x86 processor, at least 4GB of RAM, 32GB of storage, and be compatible with the Intel NUC platform architecture.
A reliable internet connection.
A computer for downloading and flashing the image.
A thumb drive with a minimum of 16GB of storage.
A keyboard, monitor, and mouse connected to the edge device.
An account on the MachineMetrics platform with either Manager or Executive level permissions.
Downloading and Preparing Your Thumb Drive
Download and install balenaEtcher on your computer.
Run balenaEtcher and click on "Flash from file". Locate and select the downloaded image from step 1.
Insert your thumb drive into the computer. In balenaEtcher, select "Select target" and choose your thumb drive.
Click on "Flash!" to start the flashing process.
balenaEtcher will verify that the flashing process was successful. If this fails, repeat the process starting at step 3 above.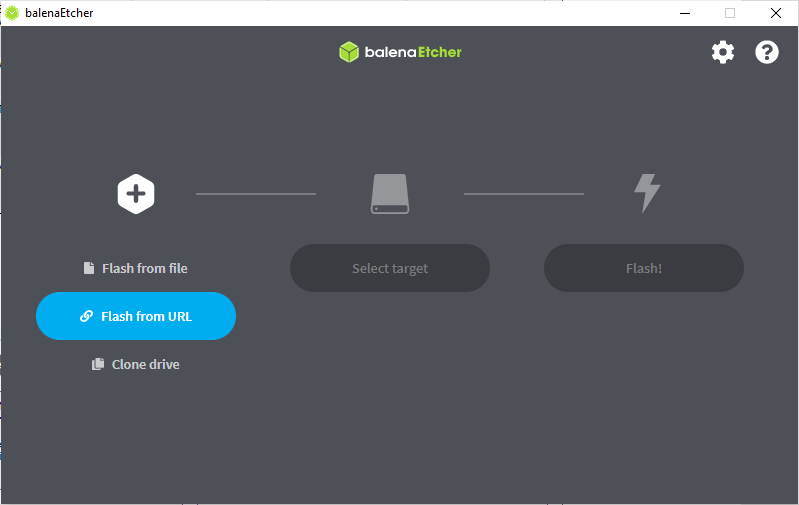 Note: While you can use the same thumb drive for multiple edge devices, this image expires and is replaced every week. Always download the latest image before starting the provisioning process.
Flashing the Edge Device
Safely remove the thumb drive from your computer and insert it into the edge device.
Turn on the edge device and boot from the thumb drive. You may have to make adjustments in the BIOS to select the boot volume. This process may vary depending on the device; consult your device's manual if necessary.
Once the device has finished booting from the thumb drive, it will automatically start the flashing process. At this stage, the screen will only display a flashing cursor in the upper left-hand corner. This will remain for a few minutes while the device is being flashed.
When the flashing is complete, the monitor will indicate there is no device connected. If you are using a MachineMetrics Edge device, the light on the power button will turn amber at this point.
After the flashing process is complete, unplug the thumb drive from the edge device and power it on.
Activating Your Edge Device
Now that your edge device is provisioned, follow the steps on the screen to activate it to your company. Please review our detailed guide on Activating Your Edge Device: A Step-by-Step Guide (Setup and configuration).