Overview
On some machines, data acquisition is only possible through a serial port. If this is the case, it will be necessary to configure and install a serial-to-ethernet converter (Moxa Box). This article takes you step by step through the process of configuring your Moxa Box. If you are looking to purchase a Moxa Box, please visit our hardware shopping list article to learn more, and visit this article for a list of our Hardware Kit and Connection Schematics.
Prerequisites
Power up the Nport via the included power supply and connect the ethernet cable from a PC to the Nport 5110.
Set local PC ethernet port to the same subnet as the default IP address of the Nport 192.168.127.2 to 192.168.127.253 NOTE: Default IP address for a factory Nport 5110 is 192.168.127.254
Follow the steps below and click SUBMIT on every page when making changes.
Step 1:
Nport IP address
Once your Moxa Box is powered up, and you have established an ethernet connection between it and your computer, enter the IP address of the Moxa Box into the URL bar of your web browser. This will take you to the Moxa web interface.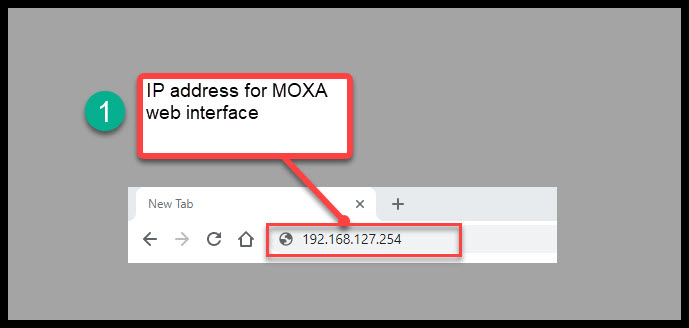 Step 2:
MOXA password page
The first page after entering the Moxa Box IP address asks for a password.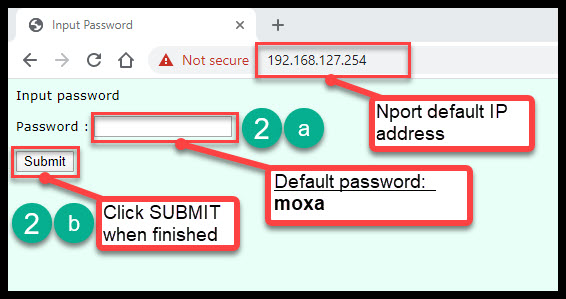 MOXA Overview:
Main Menu page
From the main menu you can navigate through the different settings of the Moxa Box.

Step 3:
Basic Settings page
Create a name for the Moxa Box that reflects the machine to which it is attached.

Step 4:
Network settings page
Set an appropriate static IP address. This IP should be within range of the network it is communicating with.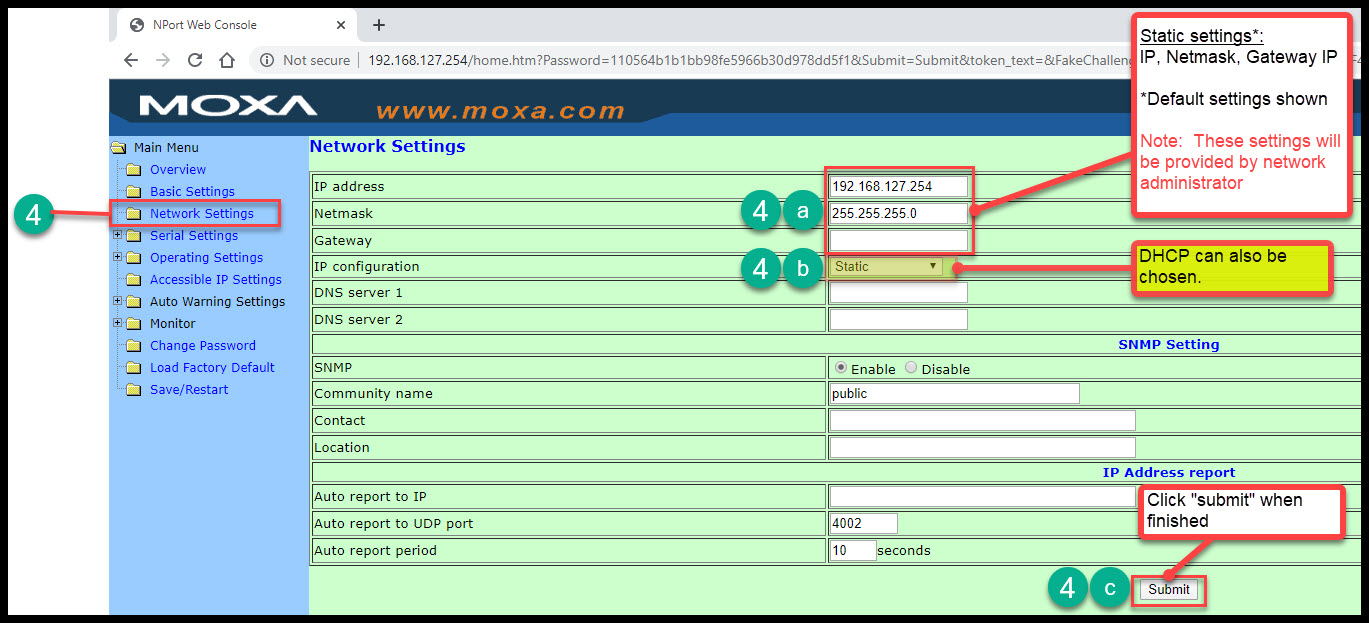 Step 5:
Serial Settings page
The settings on this page must match those on the machine's HMI. Make sure Flow Control is set to "XON/XOFF" on both the Moxa and Machine control. Also be sure to enable "Machine Data Collect" on the control. You may have to reset the machine's control for changes in settings to save!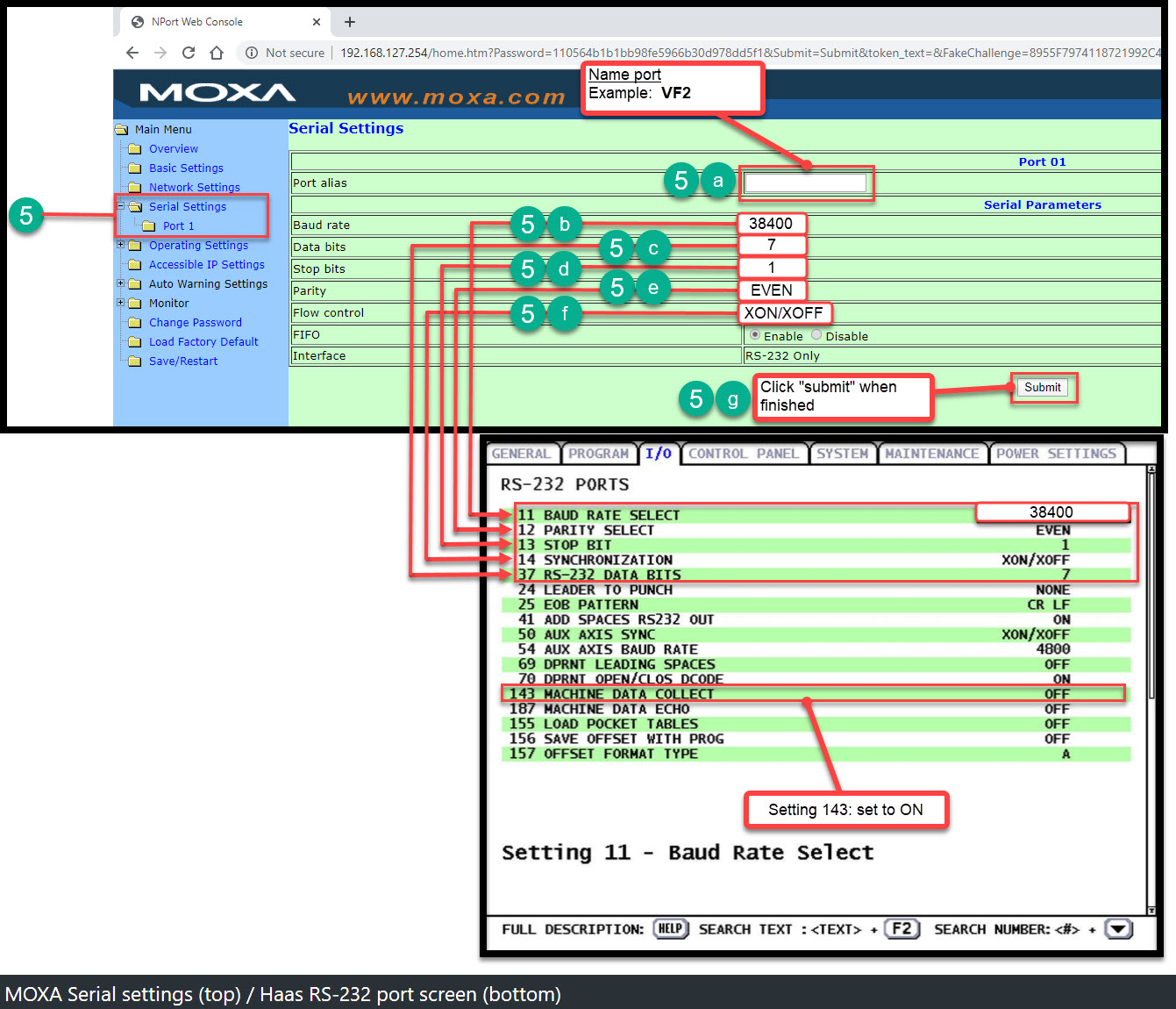 Step 6:
Operating Settings page
On this page set Operation Mode to "TCP Server Mode" and Max Connection to "3".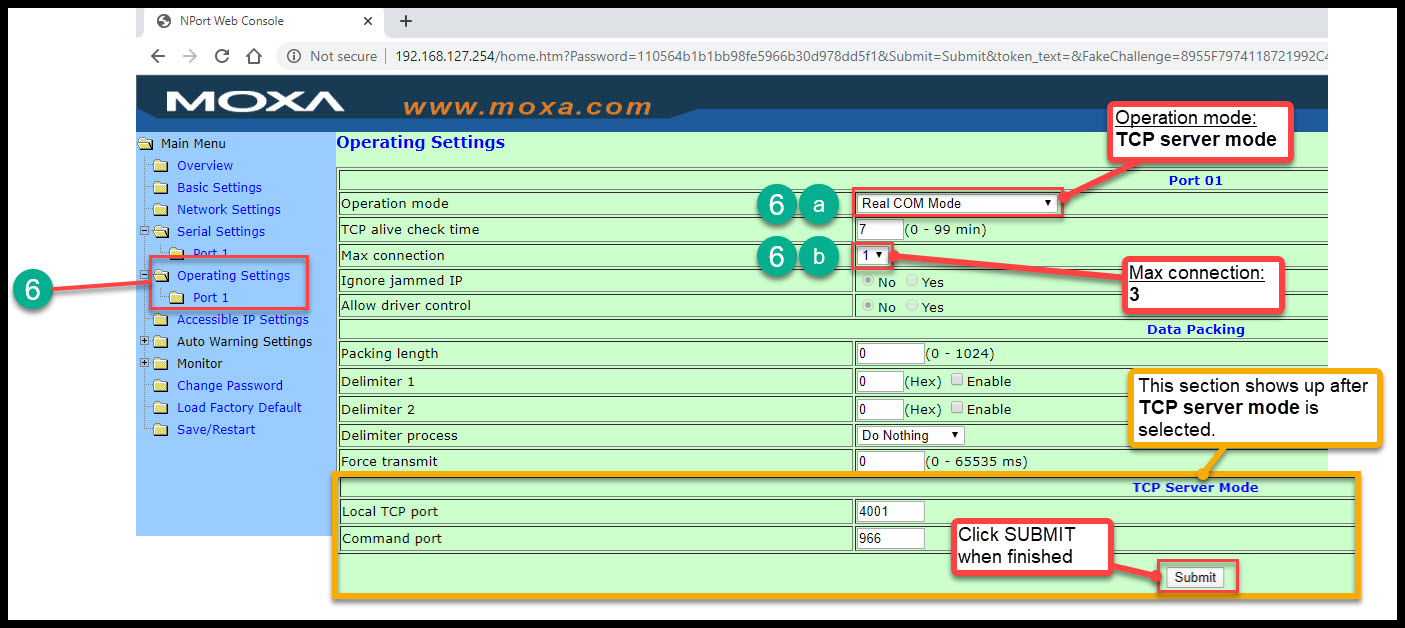 Step 7:
Save/Restart page
It is necessary to save any changes after each step in the Save/Restart menu. Click "Submit" after each step!

Once you have completed all steps, go back to the main menu and confirm that the desired settings have been saved. If so, your Moxa Box is ready to convert your machine's data from serial to ethernet!
Have questions? For more information, reach out to support@machinemetrics.com or your Customer Success Manager.