Symptom: HAAS machine tool connects over serial, but delivers no data.
The MachineMetrics Haas serial Adapter may report an alarm W0143 Setting 143 may not be enabled.
When connected via Telnet or terminal emulator, the control responds to Q100<enter> with a blank line and a new prompt: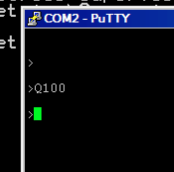 (Note that the Haas doesn't echo input - the only reason you see the 'Q100' here is because PuTTY is set to echo keyboard input.)
Cause: HAAS controls will not answer to Q-codes unless the "Serial Data Collection" feature is available in the control AND the feature is enabled via Setting 143. The feature can be assumed available in all units produced after 2001, when it became standard. Haas vintage 2001 and older, check if Setting 143 is present.
HAAS Resource Center - Data Collection Using the RS-232 Port
Solution:
Make sure you have a working serial connection: After connecting RS-232 serial server, match the serial setting on serial server with setting on machine.
Turn on setting 143 by:
1) Press "SETTING" hardkey
2) Search for or scroll to #143
3) Turn setting on
4) Press ENTER/WRITE Hardkey
Configure Moxa with a Browser
Browse to the Moxa's network address e.g. http://192.168.1.28

If the Moxa prompts for a password, the factory default is 'moxa'. I also sometimes find them configured with the empty password.
MAKE SURE TO click Submit on every page after making any changes.
Notes, in page order:

Basic Settings
Set the Server Name to something that indicates the machine it is serving e.g. HAAS_VF12.

Network Settings:
The NPort needs a stable IP address, so select either IP configuration: Static and choose an IP address that the gateway can reach, or select IP configuration: DHCP and set up a permanently reserved address on the local DHCP server.
Either way, note the NPort's IP address for later.

Serial Settings - Port 1
Set the Port Alias to something meaningful too, for example VF12
Match the Haas serial settings for Baud Rate, Data Bits, Stop Bits, Parity, and Flow Control.
I always leave FIFO: Enabled.
Make sure that Interface: RS232.

Operation Modes - Port 1
I leave default settings except for:
Operation mode: TCP Server
Max Connection: 3
Local TCP port: 4001

finally go to the Save/Restart page and Submit.