Introduction
This page allows you to view, and in certain cases manage, available integrations between MachineMetrics and 3rd party systems.
Topics covered in this article:
How to get there:
To navigate to the Integrations Settings page, click Settings in the sidebar navigation and select Integrations from the list.
General
From the Integrations Portal, you are able to see all available integrations. By clicking on an integration's card, you'll bring up a window that tells you more about the integration.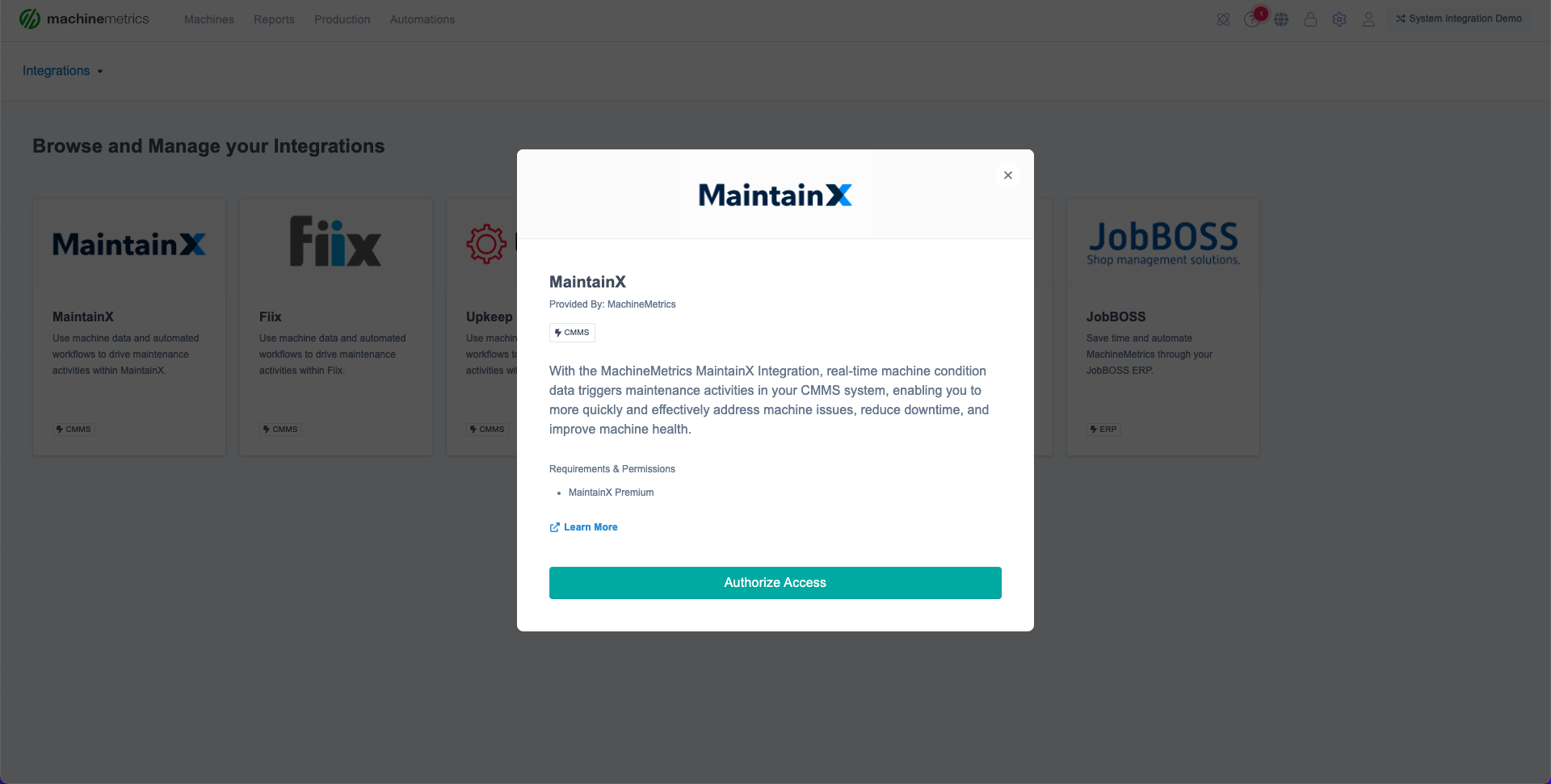 There are the following fields within each integration's window.
Title: This is the name of the 3rd party tool the integration will connect MachineMetrics to.
Provided by: Not every integration was built by MachineMetrics. Some have been developed by 3rd parties, and they are responsible for providing the integration.
Tags: The categories of factory systems the integration falls into.
Requirements & Permissions: Some 3rd party systems require you to have a certain tier of service or version of their software. This section lists what you'll need for the integration to function.
Learn More: Click this link to learn more about the integration. It might be on a MachineMetrics page or on a page created by the creator of the integration.
Activating or Requesting an Integration
If the integration is self-service, meaning it does not require any assistance from MachineMetrics to deploy, there will be a button at the bottom of the window that says "Authorize Access." Otherwise, there will be a button that says Request Integration.
When you press Authorize Integration, you'll be prompted to enter credentials for the integration. The required credentials will vary from integration to integration. See the specific integration's instructions for details.
If you press the Request Integration button, it will notify us of your request, and one of our team members will reach out to you via email with the next steps required to complete the integration.