Introduction
Certain Mori Seiki control interfaces are capable of transmitting either MTConnect or FOCAS data to MachineMetrics, giving you the option to choose between the two data collection protocols.
Topics covered in this article
Configure your machine
In order to configure your machine to communicate either MTConnect or FOCAS, you will need to locate the appropriate ethernet ports. Open the main electrical cabinet to see which ports are available. See below as an example of where the ethernet ports are located: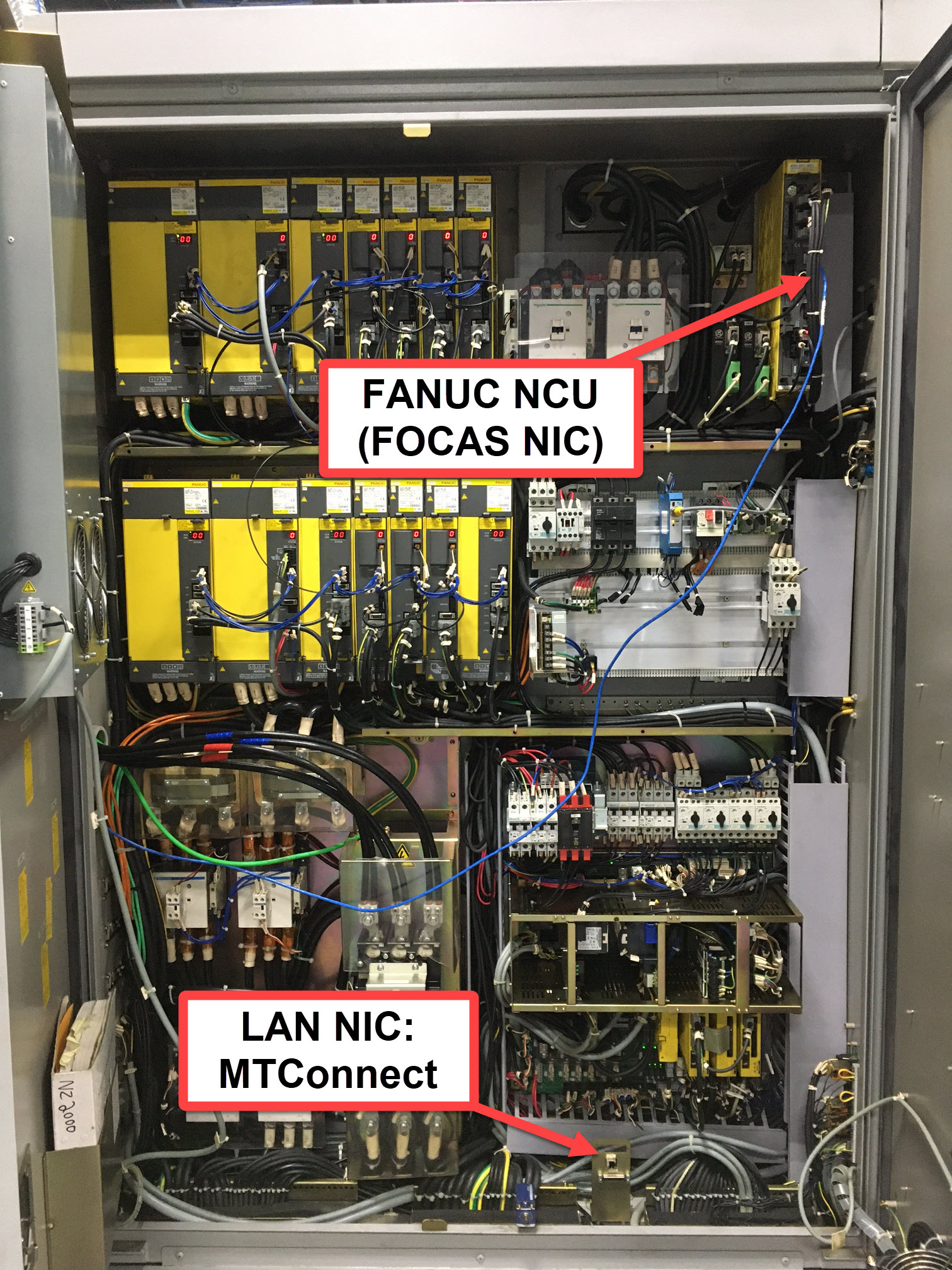 Generally, the ethernet port for FANUC FOCAS will be located on the FANUC NCU. The port for MTConnect will be located on a metal bracket, patched through the machine from the HMI.
How to Enable MTConnect
Press "COMM SETTING" softkey
Choose "NETWORK BASIC SETTING" (usually the first item on the COMM SETTING list)
Fill in the IP, SUBNET, and GATEWAY fields in the Network Basic Settings page.
*Make sure to turn off DHCP
Now that you have set the communication settings for the MTConnect port, reset the machine's control. You should be able to ping the IP address from the MTConnect ethernet port shown above.
How to Enable FANUC FOCAS
Press "SYSTEM" hardkey
Press "NC SYSTEM" softkey - this will take you to the FANUC backend. From here, you must navigate to the communication settings for the embedded port. Depending on the age of your machine, the steps to access these settings will differ. Follow the instructions in the Guide to FANUC FOCAS to learn how to set the communication settings of the embedded port.
After setting the IP address, Subnet, and gateway - and the TCP port to 8193, reset the machine's control. You should now be able to ping the IP from the FANUC FOCAS embedded ethernet port pictured above.