What is Auto Job Dispatch?
Auto Job Dispatch allows you to associate a Job or work order in MachineMetrics with program data being collected from your machine. This allows MachineMetrics to track what Job or work order is running without Operator input.
Note: To use Auto Job Dispatch, your machine must be capable of reporting programs that can be correlated to jobs. You will also need to have Jobs configured for your MachineMetrics dashboard
Auto Job Dispatch will view all programs from a program data point you specify. If AJD detects a program associated with a job that isn't running, it will stop the current job (if needed) and start the new job. If it detects a different program but that program is associated with the current job, it will continue to run the current job. If a program that isn't associated with a job is detected, it will stop the current job.
Before you can use Auto Job Dispatch
This feature can only be enabled by a MachineMetrics employee. Please contact your CSM or email support@machinemetrics.com if you would like to enable Auto Job Dispatch or are interested in learning more.
Configuring Auto Job Dispatch
Once Auto Job Dispatch is enabled for your account, the next step will be configuring it for your individual machines. In order to configure your machines, follow the steps below.
1. From your MachineMetrics dashboard, hover over the Settings option from the top navigation menu, and then select Machine Settings from the dropdown.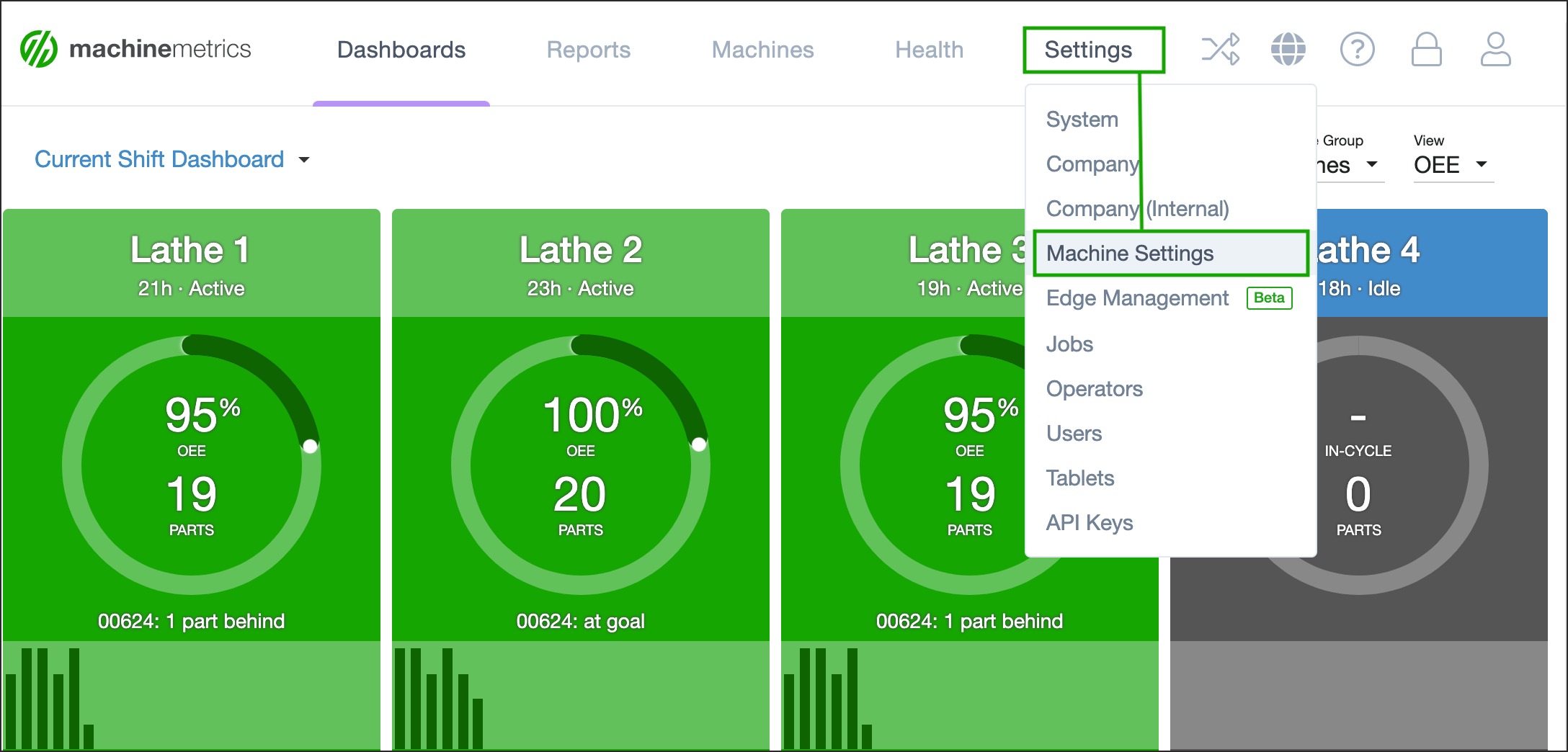 2. If you are configuring a machine that has already been added to your account, click on the machine or on the Edit button that appears when hovering over it.

If you are looking to add a new machine and configure it with Auto Job Dispatch, click the Add Machine or Duplicate button.

3. Next, select Auto Job Dispatch from the left sidebar. If you do not see Auto Job Dispatch as a menu option, please reach out to your Customer Success Manager or support@machinemetrics.com.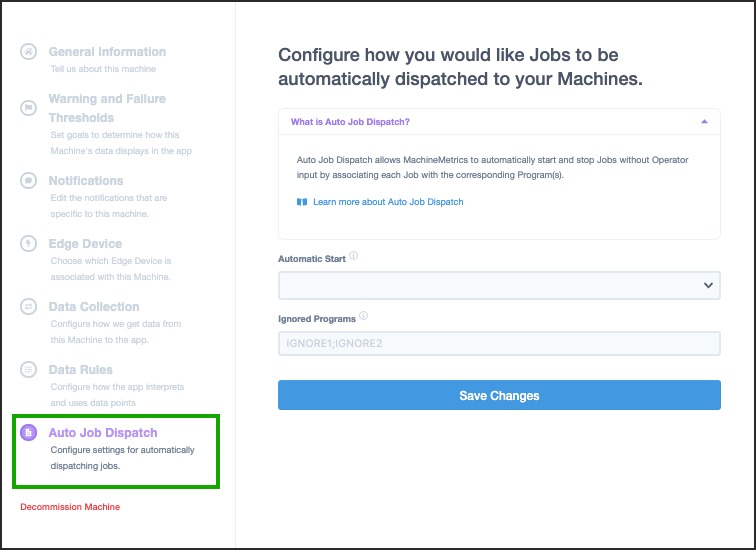 4. Click the Automatic Start dropdown and select which program metric you'd like to use. This will be the data point that reports programs that correlate to your jobs. If you're unsure of which metric to select, take a look at your machine's Diagnostic Timeline to view the different program metrics.



5. The final step is to configure your Ignored Programs. These are programs that can be configured to be ignored by Auto Job Dispatch to ensure they do not interrupt the job that is running. Programs that appear on the data item you selected from the Automatic Start dropdown that aren't associated with a specific job, such as a pallet change, should be added to the Ignored Programs field, each program separated by a semicolon.
If Ignored Programs are not configured, Auto Job Dispatch will not work correctly.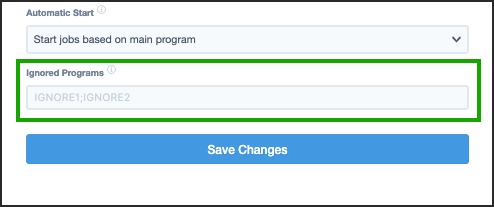 6. Click Save Changes at the bottom of the page, then repeat these steps for each machine you'd like to configure for Auto Job Dispatch!
Auto Job Dispatch by API
If you're interested in using our APIs to dispatch jobs in MachineMetrics, you'll need to do a few additional steps of configuration.
1. Follow the steps above in the Configuring Auto Job Dispatch section above, but select Start Job based on MES from the Automatic Start dropdown.
2. Then enter a unique ID into the ERP Machine ID field. This is what will be used in the jobdispatch/start and jobdispatch/stop endpoints to identify machines. To learn more about our APIs, see our developer page!