Introduction
The MachineMetrics Parts Report provides the charts for each machine that show parts produced and rejected by shift and compared to the shift parts goal for Jobs over a selected time period.
Topics covered in this article
Accessing the Parts Report
To access the Parts Report, do the following:
Login to MachineMetrics. Once logged in, the Dashboards module will open to the default view of the Current Shift Dashboard.




Hover over Reports in the main navigation, and select Parts from the drop-down menu as pictured below.



The Parts Report will open as shown in the following section.
Parts Report Information Layout
The Parts Report provides the following information over the selected time period and shifts:
Report Selection Tools: Pull-down menus that allow you to choose for the report to display data All Machines or selected machine groups and the time scale to use for the chart, and a calendar tool to select the date and time range for the report to display.
Machine Part/Shift Chart: Bar chart for each machine that shows total parts produced and rejected over the selected time by the selected machine groups, color-coded by shift.
Chart Legend: Shows colors that are represented in the chart as Good Parts, Parts Rejected, and Job IDs with corresponding shift goals for the Job.
The following figure shows the Parts Report information layout.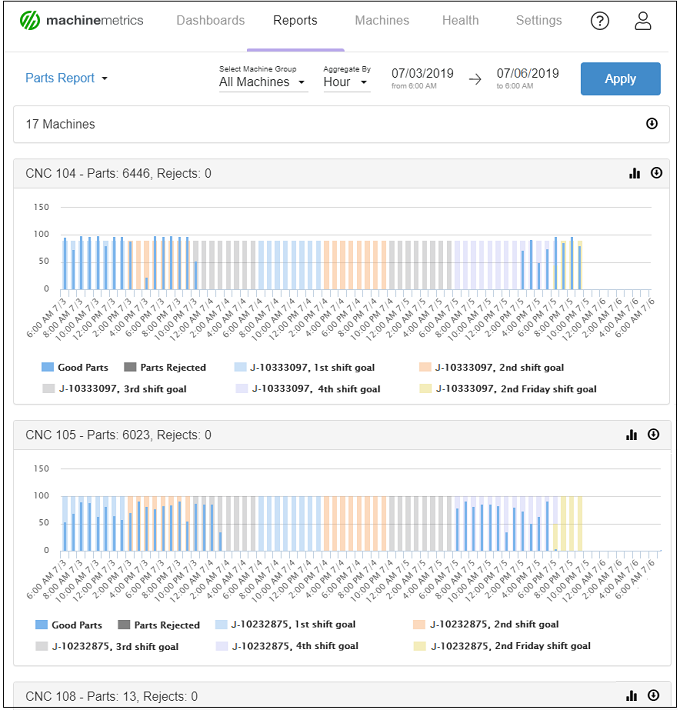 Would you like to take an in-depth look at MachineMetrics Reports, including the Parts Report? Request access to MM Academy, an on-demand training program for MachineMetrics customers.

Have questions?
Having trouble with Part Counting on a particular machine? Visit our Troubleshooting Guide: Part Counting.
You can always contact Support@machinemetrics.com for additional help.