Jobs in MachineMetrics represent the production standards used in your environment for machine operations. Jobs are used to contextualize machine data at the moment across dashboards and views as well as historically in reports. The Jobs page allows you to add, edit, import, and manage your Job standards in one place.
A MachineMetrics Job must be created for each discrete machine operation used in your manufacturing process for a particular part. For example, if you have a part that takes 10 separate operations on 10 separate machines (lathe turning, milling, and so on), you will need to create one Job in MachineMetrics for each of the 10 separate machine operations. Only machine operations need to have Jobs created for them. Non-machining activities such as heat treatment, layout, and mounting are not specifically tracked in MachineMetrics Jobs unless the Setup Stages feature is enabled in System Settings.
Topics covered in this article:
Accessing Jobs
To access the Jobs page, navigate to Settings > Jobs. This will take you to the Jobs home page where you can see a list of all Jobs as well as manage each one.
From the Jobs page, you are able to select any Job in your list and perform a variety of functions like:
Filter and Search

View Report

Edit

Expand
Filter and Search
From the Jobs page, you are able to filter your Jobs by the items below as well as use the search function to find other keywords.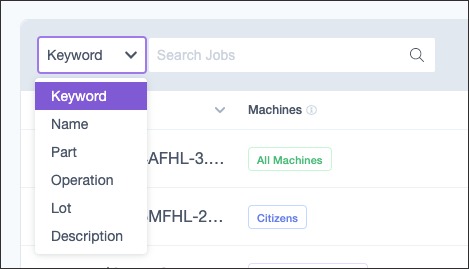 View Report
Selecting View Report will open the production performance report for the individual Job. This report can be used to drill down and see how your Job is performing against the standard that you have input. Job Standard Optimization is highly recommended by MachineMetrics. To learn more see the article below:
Job Standard Optimization using the Report Builder
Edit
To Edit a Job, select Edit from the options that appear when you hover over the Job in your list. This will open the Edit Job flow where you can update the details and configurations.
Expand
Expanding a Job will show you any Custom Machines along with any standard overrides for the Job.

Adding Jobs
There are two different ways you can add Jobs to MachineMetrics. The Jobs Page can be used for adding jobs with the Add Job form. For more information about this method, visit our Knowledge Base article here.
The second method for adding jobs is to import a list of the jobs, typically in the form of a .CSV file that is uploaded to MachineMetrics. For more detailed information about this method of importing jobs, please refer to our Knowledge Base article here.
Editing Jobs
Individual jobs can be edited after they have been imported into MachineMetrics. To do this, navigate to Settings > Jobs and hover over the job that is going to be edited. On the right side of the screen, there will be an Edit option. Once this is selected it will take you to a screen where a number of things can be edited, such as machines included, expected and ideal part times, setup tracking, and performance goals to name a few. For more information please visit our Knowledge Base article for editing jobs here.
Operator Job Functions
Operators can perform a variety of functions utilizing the Operator Dashboard interface, this allows for more precise control when jobs are running. Some functions operators are able to perform include starting and stopping jobs, pausing and resuming jobs, categorizing downtime, and rejecting parts. For more information about job functions performed at the operator level, please visit our Knowledge Base article here.
* Please Note: If you choose to automatically add/update Jobs using an integration with your ERP, you will need to use the legacy CSV formatting for that process.
Watch a Video Demo of Adding Jobs
Have Questions?
Reach out to Support@machinemetrics.com.